Types of Needles
H (Universal) – General purpose needles, with slightly rounded tip, ideal for most woven fabrics, linen, nylon, polyester, tulle, velour, wool, organza, fleece, synthetic leather, synthetic suede, and some knits.
H – J (Jeans) - Have a sharp point and Sturdy shaft, an ultra – sharp point and a very slender eye. These needles can stitch through many layers without breaking. Use on heavy, tightly woven fabric, like denim, canvas, and duck.
H-M (Microtex/Sharp) - This needle has a super-sharp point and narrow shaft for piercing the fines yarns, produces superior topstitching. Suitable for finely woven fabric like chintz, silk, lightweight faux suede, and microfiber.
H-S (Stretch) – Have a rounded tip and small hump that cause the thread to create a large loop, preventing skipped stiches. These needles are for lightweight and/or slinky knits, spandex, foundation garments, elastic, lycra, silk jersey.
H-E (Embrodery) - These are needles for machine embroidery, when sewn with Rayon, Acrylic, or speciality threads.
H-EM (Metallic) – Have anextra-large eye, large groove scarf, and sharp point which goes well with monofilament and metallic thread. This needle must be used when sewing metallic thread. No 80 needles for lightweight fabrics, and No 90 needles for medium-weight fabrics.
H-Q (Quilting) – Have a very thin, long and sharp point, ideal for sewing multiple layers of fabric. Use with cotton quilt fabrics and batting.
H-SUK (Jersey/Ball point needles) - These are specifically for knit fabrics with a medium stretch degree. The rounded tip is designed to slip between fibres and not cause laddering or holes.
H-LR, H-LL (Leather)– Have a slightly twisted cutting edge at the point easily penetrates hides. Pierce the fabric/leather at 45 degree angle. Use with natural leather and suede, and knits. Do Not use with synthetic leather or suede. This needle leaves permanent holes. Avoid backstitch so that the fabric does not get perforated. Instead, tie the thread ends.
H-O (Wing)- It has flared 'wings' on each side of the shaft. Used for heirloom and decorative stitches on Batiste and linen. It has a single shaft connecting two needles. This needle is used when the sewer wants perfectly parallel stitches. Usually seen on jeans and decorative stitching.
H-ZWI (Twin needle) – It has two needles next to each other that are joined at the top. They are for sewing hems in stretch garments. Available in three sizes only – No 70, 80, 90 and three types H, J, E. The distance between needles measured in millimetres (1.5, 2.0, 2.5, 3.0, 4.0, 6.0). Needles 4.0 and 6.0 can be used only for straight stich.
H-DRI (Triple needle) This needle only comes as a universal needle. This machine sewing needle type is the same as the twin needles mentioned right above except that there are three needle shafts that can be used to decorate and hem. The machine must be Triple needle capable. Available only three sizes (2.5 and 3.0).
N (Topstich) - It has an extra-large eye, large groove, and sharp point for heavy decorative threads, embroidery thread, or even two strands of all-purpose thread. Available in sizes 80 – 100 for light weight, medium, and heavy fabrics.
Sewing Machine Needles Color Codes
Each needle has two color marks. The top line stands for needle type and bottom line stands for needle size.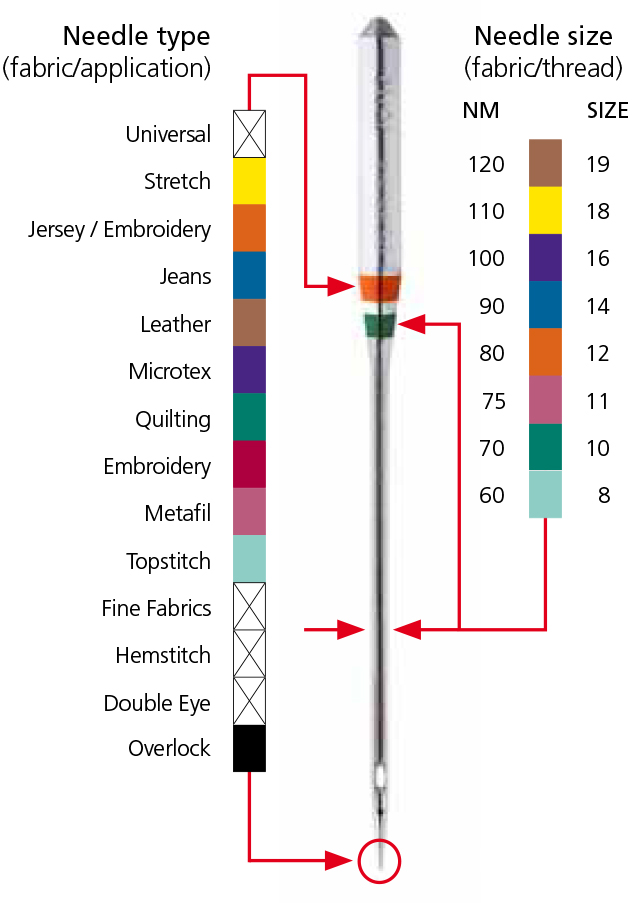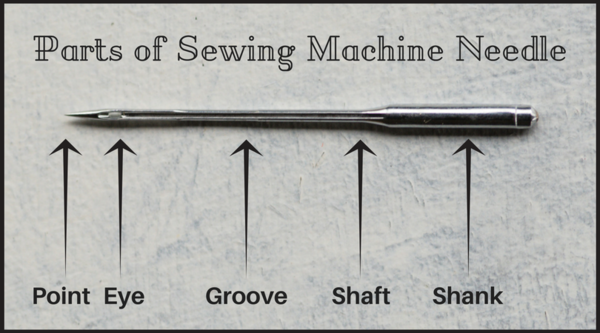 Size of needles
Needle size determines blade diameter. For example, a size 75 needle has a blade that is .75 mm in diameter.
Needle Size US

Needle Size EU

Blade Diameter

Fabric

8

60

0.6

Sheer fabrics, organza, light silks, microfiber, voile, taffeta

9

65

0.65

10

70

0.7

Cotton lawn, light lycra, spandex, jersey

11

75

0.75

12

80

0.8

Quilting cotton, poplin, rayon, linen, chintz, calico, shirting, velvet, terry, polar fleece, corduroy

14

90

0.9

16

100

1

Denim, vinyl, upholstery fabric, canvas, damask, tweed, gabardine, ticking

18

110

1.1

20

120

1.2